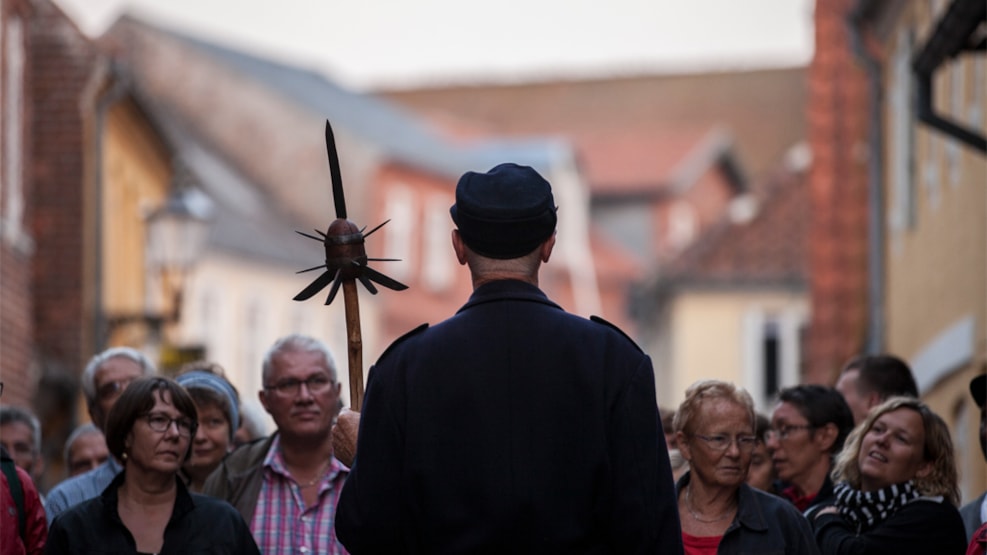 The Night Watchman's Rounds in Ribe
Ribes Night Watchman creates a very special mood that takes you back to a time without modern policem en and alarms. The Night Watchman sings his songs and tells the dramatic stories about the history of Ribe.
The Night Watchman goes his traditional round almost every evening during the summer season from 1 May until the last Saturday of week 42. The tour starts from the market place in front of Restaurant Weis Stue at 20.00. It is free to join him. Duration approx. 45 min. From 16. June until 15. August also tours at 22.00.
No booking.
The Nicht Watchman also goes up to Christmas, in Week 7 and in the Easter holidays!

In the old days it was the job of the watchman to keep the peace at night and in Ribe he also had to warn the population of impending floods. The modern police slowly took over, and the Night Watchmen in Ribe ended their work in 1902.

In 1932 it was decided to take up the Night Watchman tradition as a tourist attraction.

The tours are in danish and english.