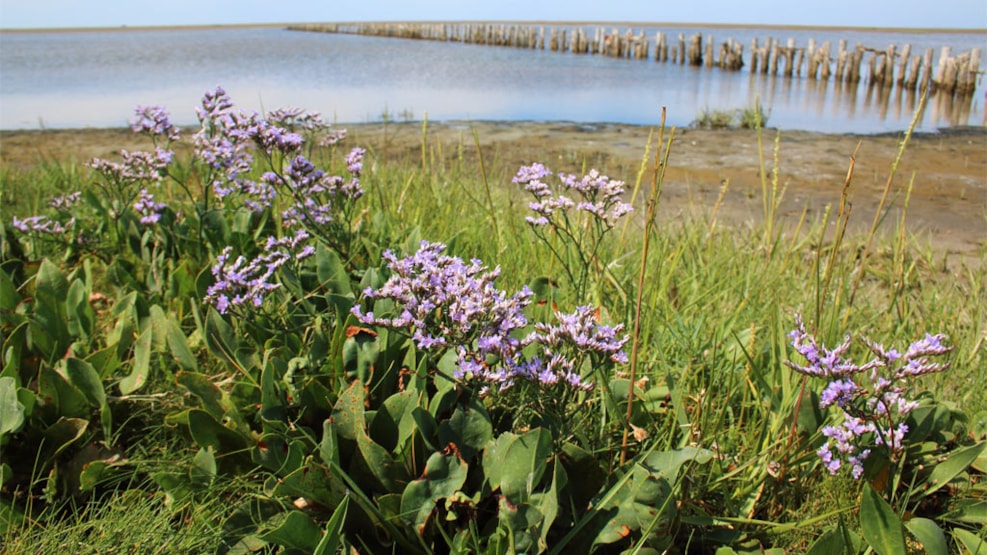 Flora on Mandø
In the reign of the west wind
The flora on Mandø is characterised by the vegetation having to endure the strong westerly winds that often rule in the flat landscape. Even so, you will find and exciting selection of plants inside as well as outside the dike.
The densely blooming sea lavender, also called Mandø heather, is probably the best-known plant on Mandø. See the photo above. Sea lavender is found in the salt marshes in and around the Wadden Sea. Despite the popular name, Mandø heather, the sea lavender has nothing to do with heather. Its popularity is likely predicated on the fact that it can be dried and holds its colour well.
Glasswort
Glasswort or saltwort is a 5- 30 cm tall annual plant closely linked to the saline salt marshes and waddens. It contributes to binding the silt that builds up the salt marshes. Glasswort is a succulent that contains high concentrations of table salt and soda. The plant is edible and with a clear taste of salt. As a result of the increased interest for raw foods it is often used as an ingredient in salads etc.
Pickling glasswort is another option. The result will be salty, tart and sweet and can be used for fish, chicken or veal.