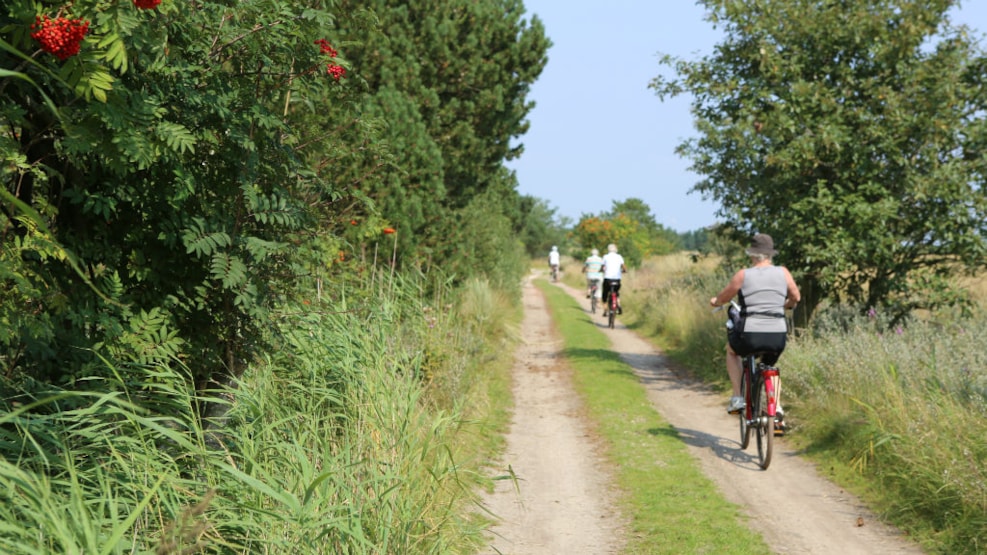 Cycling on Fanø
From North to South Fanø is only 15 km. You will find cycle paths connecting all towns and holiday areas. Moreover, the beach is perfect for riding your bike.
Between the towns and the holiday centers there are goog bicycle roads. That makes it safe and easy for all to ride the bike - also for children. There is hardly any traffic on the smaller roads on Fanø and therefore it is nice to cycle on them. As on the beach. Close to the water the sand is often very loose and difficult to bike in. Close to the dunes, however, the sand is hard and it is almost like riding on a bicycle road. The beach is perfect for cycling. 
In the middle of Fanø there are quite a lot of dirt roads where you are allowed to cycle. Some them are quite good, others are very sandy. Although Fanø is relatively small the nature is very varied. You see dunes and the beach, the landscape of the Wadden Sea, the dune heath and the forest in only one day. 
Ask at Fanø Tourist Office, where you can also acquire 5 different bicycle cards.
Bicycle routes on Fanø
Route no. 1
The World Heritage Wadden Sea route is 42 kilometres long. This route takes you all the way around the island, and while cycling you will experience some of the most important landscapes that has helped Fanø and the sea around Fanø to achieve national park and World Heritage status. 
Route no. 2
The Atlantic Wall route; it is 26 kilometres long and will take you to a number of the most important bunkers on the island. These bunkers were built during the 2. World War. 
Route no. 3
The Panoramic Route 404 is the only one that has been marked by signs. It is 26 kilometres long and provides an opportunity to go to some of the best view points and landscapes on the northern part of Fanø. 
Route no. 4
"The Big Five" takes you to the 5 view points made up of the 5 largest hills on Fanø and is 37 kilometres long. 
Route no. 5
The Mountain Bike trail is 7 kilometres long and is located in a beautiful area in the western part of Fanø Klitplantage.