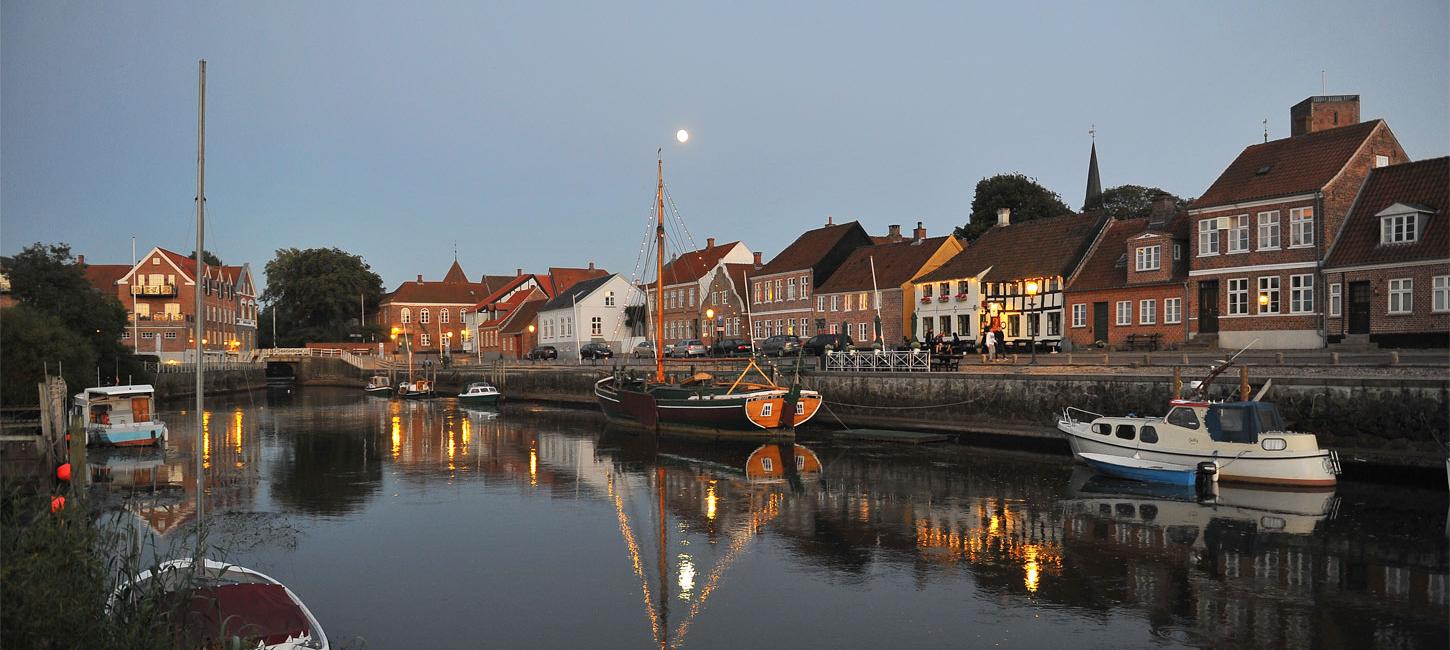 Timeline
Important years and events in the history of Ribe.
Before year 704-710
The earliest traces of trading and craftsmanship in Sct. Nicolaj Gade.
Approx. 704-710
The parcelled out market square was built.
720
The first coinage in the Nordic region was minted: Wodan/Monster sceattas.
825
Ribe was bounded by a ditch.
854-57
Ansgar was given a plot in the city and permission to build a church.
948
Bishop Leofdag of Ribe attended a church meeting in Ingelheim, Germany.
1070
Adam of Bremen wrote that Ribe was "a city encompassed by another waterway that flows in from the ocean and over which one sails for ..."
1127
King Niels son was married in town.
1137
King Erik II was killed by Chief "Sorte Plov" and buried inside Ribe Cathedral.
1145
The cathedral chapter and the Cathedral School, now "Ribe Katedralskole", were founded.
In the late 1100s
The construction of the present Cathedral was initiated.
1205
Queen Dagmar arrived in Ribe.
1212
Queen Dagmar died at Riberhus Castle.
1228
The Black Friars' Monastery was founded.
1232
The Franciscan Friars, the Greyfriars, "came wandering into town on bare feet" and the Monastery was founded.
1247
The Duke of Schleswig, Abel, raided Ribe.
1259
Christopher I of Denmark died under mysterious circumstances in Ribe and was buried inside the Cathedral.
1271
The town was burning (layers of burnt earth have been found).
1283
On Christmas morning the northern cathedral tower collapsed.
1333
The current Commoner's Tower of the Cathedral was inaugurated.
1362
De Grote Mandrenke - The Grote Mandrenke (Great drowning of Men).
1537
Churches and Monasteries were demolished.
1541
Hans Tausen was appointed bishop of Ribe.
1573
Hans Jessen Søhane defeated pirates in the Wadden Sea and their heads were displayed on "Hovedengen" as a warning.
1580
In September a great fire destroys a large part of the town. 11 streets and 213 houses burn down.
1581
Anders Sørensen Vedel settled in Ribe and lived in an area called "Liljebjerget". He composed "Hundredvisebogen" - 100 Danish ballads and circulated a Danish version of the complete History of Denmark.
1594
The Commoner's Tower partially collapsed and was rebuilt without a spire and hence remained flat-topped.
1634
The Burchardi Flood also known as the second Grote Mandrenke. "Ships and Sailing vessels were put up by Farup Church" (Hans Friis).
1641
Maren Spliid, the wife of Laurids Spliid, was burnt alive at the stake on Gallows Hill as a witch.
1643-44
The Torstenson War - Riberhus was destroyed.
1657-59
The Dano-Swedish War, the Commoner's Tower was fired at.
1659
The Plague - from June 9th to Oct. 28th more than 900 people died. 
1736
P. Terpager published "Urbs Ripensis", the history of Ribe city.
1741
Hans Adolph Brorson was elected bishop of Ribe.
1848
Ribe Iron Foundry was founded, the cotton factory and the shipping company J. Lauritzen were founded subsequently.
1855
Denmark's oldest provincial museum was founded.
1864
Southern Jutland was lost to Germany, but Ribe remained Danish.
1875
The railroad came to Ribe.
1882-1904
Ribe Cathedral was completely restored.
1899
Denmark's first preservation association "Ribe Turistforening" – later "Gammelt Præg" was founded.
1905
"Ribelund" was established - a welfare institution for psychologically and physically disabled.
1911
"Ribe Seminarium" was established - Teacher Training College
1927
The cotton factory "Crome & Goldschmidt" closed down.
1940-41
Excavations on "Slotsbanken" and restoration of Riberhus Castle.
1950s
The last cowshed in Fiskergade closed down.
1955
The "Grønnegade Diggings" - the beginning of Danish urban archaeology.
1963
Introduction of the Preservation Plan for Ribe.
2007
Ribe County, Ribe Judicial District and Ribe Municipality were abolished.
2010
Ribe celebrated the city's 1300th anniversary.