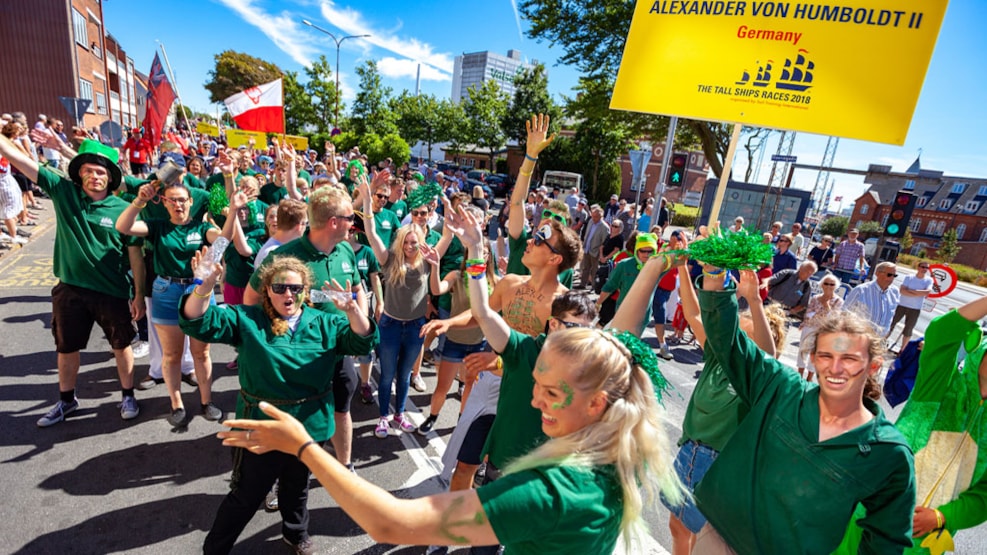 The Tall Ships Races Crew Parade
On Friday you can experience a parade procession in the pedestrian area of Esbjerg. The streets will turn into a huge party when the crews head towards the Square.
Line up along Kongensgade to experience the festive Crew Parade, where the crews from the ships represent their ship and nation as they walk through the streets of Esbjerg.
The Navy's Drum Corps warms up on part of the route from kl. 14.40, as they march from Englandsgade and via Kongensgade towards Stormgade. Here the corps meets up with the waiting parade. The drum corps will lead the parade through the route of approx. 2 km.
The parade continues via Kongensgade down to Østergade, where the parade turns to continue along Norgesgade and further along Torvegade to end at the central square of Esbjerg. 
The parade also includes fun and musical elements. Look up and spot the stilt walkers, Sea Heroes, while HabenGood's original street stomp bike provides the right rhythms.
A street band of seven musicians will accompany the parade with lots of festive tones. The rear troop, which rounds off the entire parade, consists of solid entertainment in the form of the HeatBeat Group.
The parade reaches  the square around 15.45 for the Prize Giving Ceremony at 16.00.