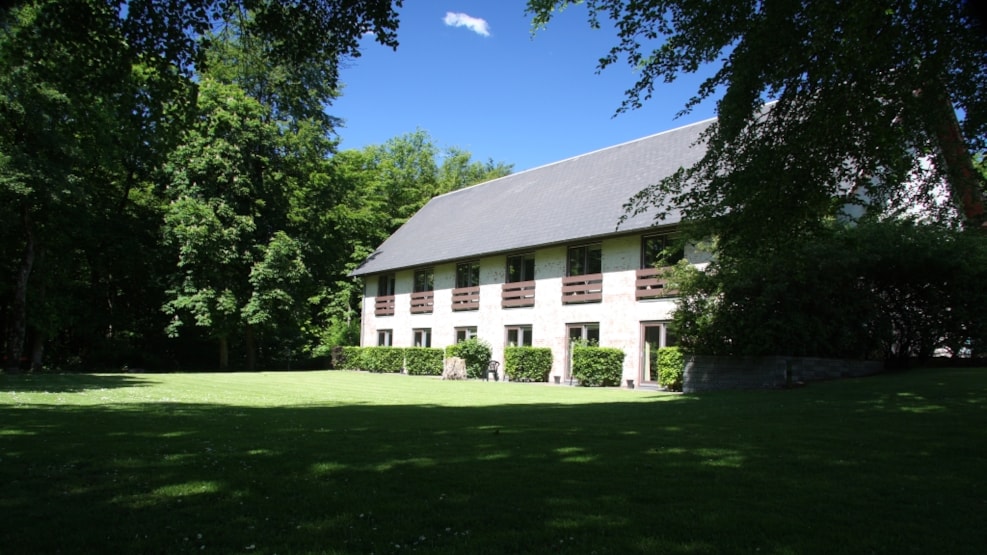 Hovborg Kro & Kursuscenter
Hovborg Kro and Hotel is located in central Southern Jutland close to the cities Billund, Vejen, Kolding and Vejle and with a little longer distance to the cities of Herning, Esbjerg and Ribe.
Hovborg Kro is a classic Danish holiday inn when it is best. The family-run hotel offers 51 modern rooms all equipped with bath and toilet, tv and internet. There is free parking at the courtyard of the hotel paved with cobblestones and offering a charging station for electric cars. The cosy restaurant of the hotel is situated in the eldest buildings of the inn dating back to 1790. Today the low-ceilinged rooms exude a charming atmosphere, and you find many historic pictures and original furniture in the rooms. The kitchen, which uses local products, serves classic Danish dishes, and the signature dish Potato tapas. In the summertime, outdoor service in the courtyard is offered.
Hovborg Kro offers overnight stays in quiet and peaceful surroundings in the village of Hovborg. We have a large garden with a small stream (Holme Å) and many cosy bench/table areas outside. Our breakfast table offers you a substantial start on the day and the option of preparing a to go lunch box at a favourable price. In 2021 Hovborg Kro was crowned as Business hotel of the Year by the hotel chainage Small Danish Hotels. Rooms are ready from 15.00 and you have your room at your disposal on the departure day until 11.00. Termos are filled up free of charge.
Being located close to Billund and close to highway 425 between Holsted and Grindsted, Hovborg Kro is an obvious base for a golfing holiday and within a short distance, you find 16 of the best golf courses. You can book green fee together with the hotel stay. Hovborg Kro is the natural choice for the craftsmen working far from home and apart from the substantial breakfast, you have the option of preparing a lunch box. Hovborg Kro is located close to Legoland and therefore ideal for families with children wishing to visit Legoland and at the same time stay the night in a quieter distanced area. Finally, you can use the inn as a basis for hiking in the area and enjoying the nature and the forests surrounding Hovborg.
Hiking holiday
Hovborg Kro is situated close to the hiking route "Kyst til Kystruten", which starts in Blåvand in the western part Denmark to the City of Vejle in the eastern part of Denmark. You can combine a hiking trip on the sub-section in the middle of the country with one or more nights at Hovborg Kro. In Hovborg there is a well-developed path network, which can be used for shorter day trips. All trips are available as digitally guided trips in the App VisitVejen. 
We welcome you at Hovborg Kro.