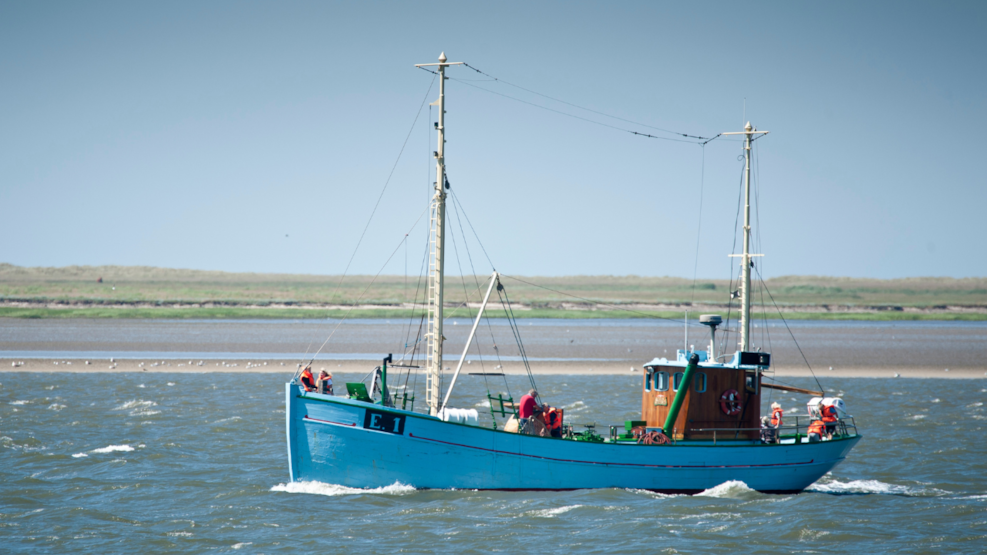 Harbour Tour with the cutter E1 Claus Sørensen
Join E.1 - "Claus Sørensen" on a guided tour of Esbjerg Harbour.
The tour will be in danish and english.
Get the story of Esbjerg's transformation from export port to energy metropolis when we set sail with E.1 "Claus Sørensen"- the sailing museum cutter that is a living relic of Esbjerg's fishing heyday. 
With guaranteed wind in your hair, you'll get in touch with nature and up close to the giant drilling rigs, vessels and offshore wind turbines that are in the harbour, and best experienced from the sea. We'll get around the historic harbour basins and out to the latest major harbour extensions, where the quayside seems to have no end.
Along the way, the story of Esbjerg Harbour's unique development and ability to adapt with the changing trades, activities and opportunities at sea - from agricultural exports to fishing to offshore industries - is told, at the heart of the story of Esbjerg Harbour and the birth and development of the whole city.
Location: Esbjerg Strand
Duration: 2 hours
Practical information
Where does the ship depart from?
E.1 "Claus Sørensen" docks at Esbjerg Strand next to the Museum Lightship, from where all trips depart. It is about 1 km. walking distance from the museum. It is also possible to drive all the way down and park close to the ship via Esbjerg Brygge.
Accessibility and convenience on board
Unfortunately, the E.1 is not suitable for people with walking difficulties. Boarding is via a staircase and the entire deck area is both narrow and sloping. There is limited seating up on deck, so you have to be prepared for standing. There are tables and benches in the galley below deck via a steep ladder. Assistance for the disabled or a wheelchair user can be arranged in advance with the help of the crew.
Food and drink
You are allowed to bring your own food and drink. We recommend that you bring a bottle of water for the trip.  
Toilet facilities
There is a flush toilet on board the cutter. The toilet is below deck with access via a steep ladder.  
Clothing
Bring practical clothes. Although the weather on land is fine, it is always colder at sea. The weather can also change suddenly from sunshine to showers and wind. In the event of a shower, it is possible to go below deck and be shielded from the rain, but the experience is always best on deck with guaranteed wind in your hair - and in the worst case, foam splashing in your face.
Crew
Our skilled crew all have extensive sailing experience and consist of a mix of former fishermen and active seamen in the merchant navy. There are always two men on board - a captain and a bosun - looking after your comfort and safety on board.
Safety
The ship has a crew of 2 and can sail with up to 23 passengers. It is equipped with two 25-person inflatable life rafts and modern life jackets for everyone. Life jackets for children are also available in several sizes. Children must wear life jackets while sailing. Crew members are trained to deal with accidents at sea. The E.1 "Claus Sørensen" has been sailing for the Fisheries and Maritime Museum since 1978 without any injuries - apart from seasickness, which fortunately occurs rarely, as sailing is not done in bad weather. 
As a passenger, you are covered by your own insurance.
Cancellation in case of bad weather
Planned trips may be cancelled at short notice due to weather. The cutter will not depart in winds exceeding 12 m/s in the mean or in poor visibility caused by fog or sea spray. It is the skipper's decision and judgement whether the trip can be completed. Prepaid tickets will be refunded in case of cancellation.