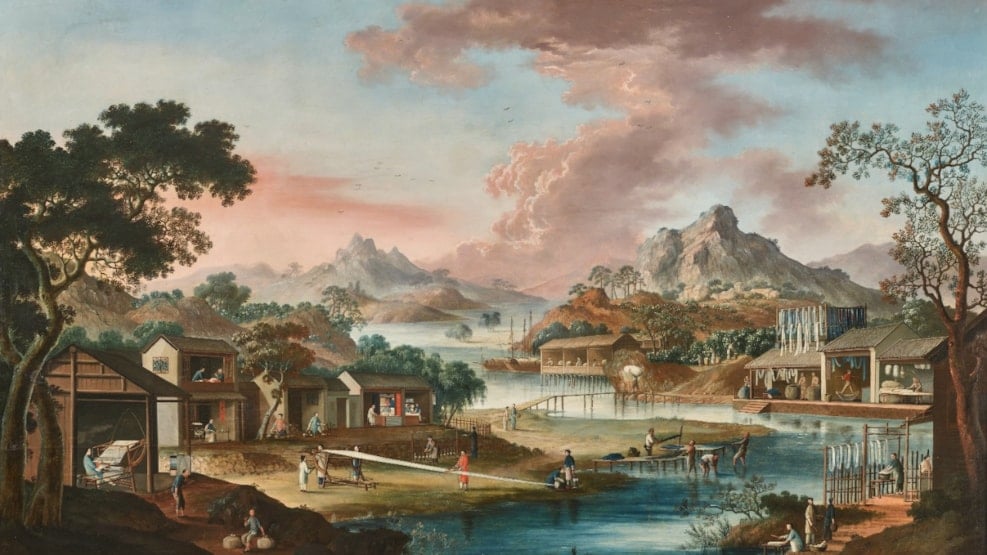 China to Fanø - Chinese treasures from the National Museum
Fanø Art Museum has quite unusually received permission to exhibit 22 Chinese works of art from the National Museum. Some of the works can be seen at the national museum, others have never been exhibited before. The works are all characterized as being of national importance.
The works take the guests to the Middle Kingdom in the 17th and 19th centuries. Here we experience the most important meeting places between Europe and China during the period. We look into the rich river culture on the Pearl River, and as something very special, we get behind the trading scene in which the European merchants operated, all the way to the places where the tea, silk, cotton and porcelain were produced. Also, the Qianlong Emperor (1711-1799) greets us through his calligraphy, perhaps protected by the demon hunter Zhong Kui, who also appears in the exhibition.
in conjunction with the exhibition, Fanø Art Museum publishes the catalog China on Fanø – Chinese treasures from the National Museum in collaboration with Gads Forlag. The catalog was written by a museum inspector, Ph.D. Benjamin Asmussen from M/S Museet for Søfart, who for a number of years has researched and communicated Danish-Chinese relations. In this connection, Benjamin asmussen will give a lecture on the subject on 4 June. Tickets can be bought at Fanø Kunstmuseum.
The exhibition is part of China to Fanø - a festival about Chinese culture, which also includes visits by 25 of the most renowned Chinese kite builders, who will show their kite art on the beach at Fanø Bad in the period 11 - 16 June. in addition, there is an exhibition in the fanø hall with Chinese dragons as well as no less than 2 gala performances on 11 June in the fanø hall, where the famous artist troupe Zhejiang Arts group will perform with music, song, dance and acrobatics.
Hen over sommeren bliver Fanø Kunstmuseum til et kinesisk skatkammer, når 22 kinesiske værker fra Nationalmuseets samling for første gang bliver vist uden for København. Her tager de gæsterne med til Riget i Midten i 17- og 1800-tallet.
Her oplever vi de vigtigste mødesteder mellem Europa og Kina i perioden. Vi ser ind i den rige flodkultur på Perlefloden, og som noget helt særligt kommer vi ind bag den handelsscene, som de europæiske købmænd agerede i, helt ud til stederne hvor teen, silken, bomulden og porcelænet blev produceret. Også Qianlong-kejseren (1711-1799) hilser på os gennem sin kalligrafi, måske beskyttet af dæmonjægeren Zhong Kui, som også optræder i udstillingen.