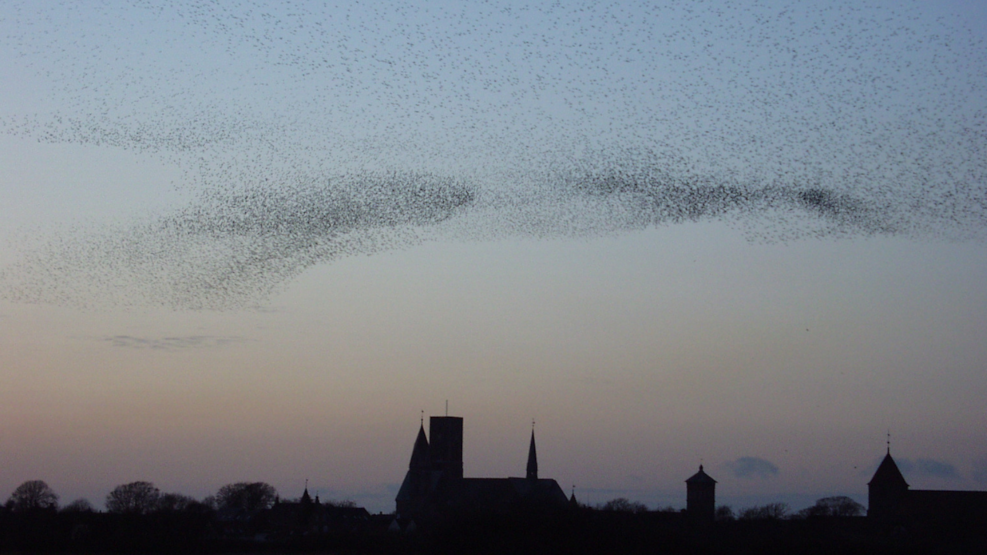 Black sun
Experience the dance of the starlings across the evening sky!
The phenomenon "Black Sun" is a magnificent display across the evening sky, when 100.000-300.000 starlings gather to roost in the reeds in the marshland. The almost magical formations made by the murmuration of starlings depend on the presence of birds of prey, as they hunt the starlings in the fading light.
The Wadden Sea Centre guides follow the starlings in the days before the tour in order to know where the starlings are most likely to settle for the night. There are, however, no guarantees with regard to nature. No one knows how the evening will turn out - but that is what makes it all so exciting!
Join us on an interesting and exciting tour where the nature interpreter tells more stories about Black Sun and the curious life of the starlings.
As we will be standing still for a long time, it is important to dress warm with a hat, woollen clothes, and wind- and waterproof outerwear. It might also be a good idea to bring some warm coffee, food and seat pads for the waiting time. Bring proper (perhaps waterproof) footwear as we might walk up to 1 km in wet terrain.
IMPORTANT:


The meeting point are in Ribe (the adress is listed on the ticket), and from here we will drive in our own cars to the starlings.
The Wadden Sea Centre can cancel the tour until one day before the tour due to bad weather, few bookings or missing starlings.
Good to bring:
- Warm clothes (hat, thermal underwear etc.)
- Wind- and waterproof outerwear
- Proper waterproof footwear
- Seat pads/blankets
- Warm coffee and snacks